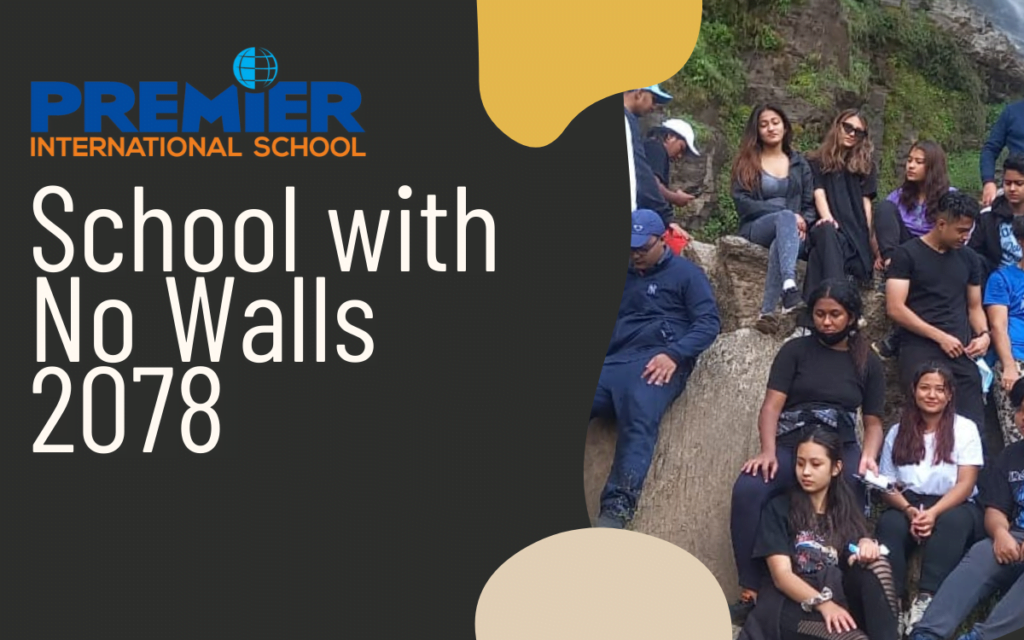 The 'School with No Walls 2078'
By Aashni Rungta and Bavinee Shrestha-Thapa

School with No Walls' this year was an annual school trip for all the students of Grade 11 and 12. It is a leisure program where students get the opportunity to:
Spend their holidays with their classmates and teachers Discover real-life situations, making them aware of different circumstancesVisit and investigate many geological spots of the nation andDisplay the different IB Learner Profiles and investigate more about it
The trip this year was to Bhoteski, which was from the 14th to 16th of Kartik 2078, for a duration of 2 nights and 3 days. There were a total of 20 students, 3 teachers, and 1 guide. A Trip Orientation was organized for the parents and students before the outing took place, to give them an in-depth understanding of the trip and how it's being conducted with the Covid-19 pandemic safety protocols duly followed. On the day of departure, the students assembled at 6:00am in the school premises to take their antigen test as a precautionary measure. They had breakfast and then left the school at 9:00 am for Sunkoshi Resort. After some refreshment at the resort, they drove to Border Land Resort for lunch, relaxation, team building activities, and dinner. The next day, they had an exhausting and fun-filled activity of hiking for 2 hours followed by biking, which was an exceptional experience for all the students. On the last day, they went rafting as the last activity before returning to Kathmandu valley.It was certainly a much-needed trip with an exhilarating experience after a long period of virtual classes and no social interaction. Despite the ongoing pandemic situation which has made it impossible for people to interact socially in person as it were in time past, the school managed to plan this entire trip to refresh the young minds by observing all safety protocols to ensure the safety of students and teachers. It was a gratifying and merry-making exploration for all the students with the incorporation of so many fun activities.